FAST
STOCK™: LOCAL
INVENTORY MANAGEMENT
FASTStock™: Simplify
Class-c spend typically represents around 80% of the parts purchased by an organization but only 20% of the overall product cost. Translation: a lot of processing and energy goes into managing low-value parts. Moreover, the complexity of the spend often results in inventory imbalances – either too much (tying up working capital) or too little (directly impacting production). However, a disorganized and poorly managed inventory management program can result in the $0.10 item costing you thousands.
If you're looking to simplify and improve your class-c supply chain, Fastenal is ready to help with a combination of technology, service, and logistics.

Offloading Burdens. Introducing Efficiencies.

1 Organizing parts into digital planograms – enabling us to illuminate data surrounding each part (what it is, where it's located, the min-max levels, and when we're servicing it.)

2 Clearly Labeling Each Location – providing product images and detailed descriptions to make products easy to identify.

3 Managing Your Parts on a Regular Service Schedule – leveraging our local presence to provide in-market buffer stock and consistent service from a representative who understands your business

4 Utilizing Technology to Elevate Our Service – embracing mobility and other solutions to make our service more efficient, accurate, and transparent.
GREATER VISIBILITY AND LESS
RISK IN THE SUPPLY CHAIN
A Total Supply Chain Solution
Establishing control early in the supply chain to navigate risk and ensure continuity.
Running consistent regional truck routes to maintain your cycle stock and expedite unplanned needs.
Immediately-available buffer stock in our local branches backed by safety stock in our regional hubs.
A dedicated, accountable team that understands your business and will adapt its service to meet your needs.
Utilize the FAST 360º tool to analyze spend dynamics, measure cost savings, and view on-hand inventory by location, down to the individual bin position.
What Are the Opportunities for Your Business?
Through vendor consolidation and efficient category management.
We stock your inventory needs locally so you don't have to.
Through careful inventory planning and utilization of our transportation fleet.
By unlocking production and procurement energy for strategic activities.
A Solution as Unique as Your Business
As a global supply chain solutions provider for thousands of companies, we understand the common challenges and best practices, but nobody knows your operation better than you. That's why our approach is to listen, collaborate, and scale a solution that aligns with your unique needs and goals.
The possibilities range from a simple dock-to-dock delivery program, to a Fastenal managed vending or bin stock solution, all the way up to an onsite partnership, where we provide a dedicated servicing location and team to run a world-class supply chain for your business.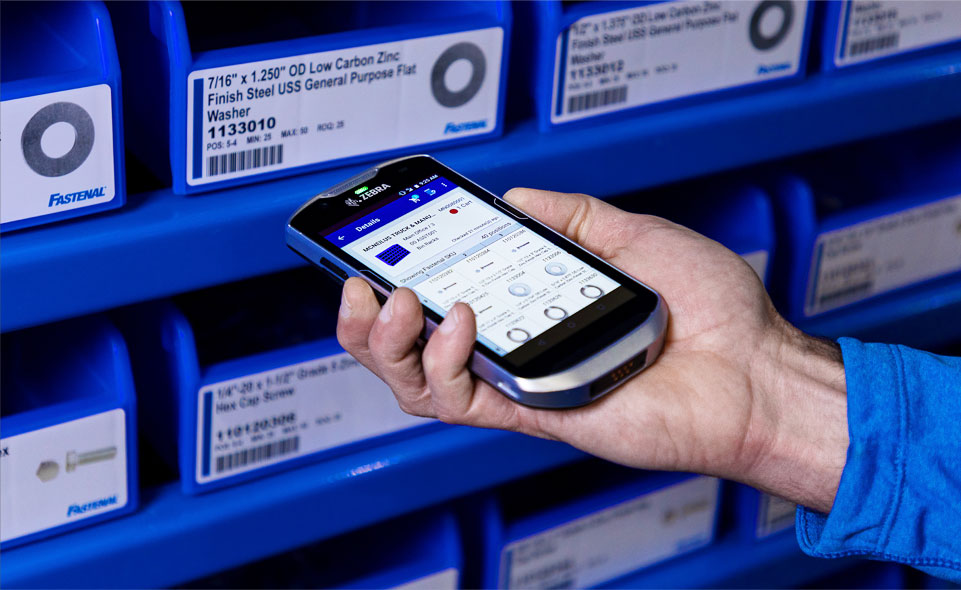 Learn More About Our Technology