Where Industry Meets Innovation
When we consult with customers about inventory, we hear some common themes: They want less of it in their facility, they want fewer touches, and they want a lower total cost of ownership (TCO). In many cases, the solution involves technology to automate and digitize the supply chain, creating efficiencies to do more with less.
The Fastenal Advantage
Roll over each icon to learn more
Drive TCO savings through vendor consolidation, effective category management, freight reduction, and controls on purchasing and consumption.
Leverage our local presence to confidently reduce your on-hand inventory and cash outlay. Simply put, we stock and manage your inventory – so you don't have to.
Increase productivity and top-line revenue with solutions that automate processes and eliminate delays, steps and waste.
BRINGING THE INTERNET OF
THINGS TO EVERYDAY SUPPLIES
Bringing the Internet of Things to Everyday Supplies
Roll over each icon to learn more
Reduce inventory and unlock labor resources by offloading material management to our experts.
Fast moving loose consumables can be a good fit for an automated but uncontrolled solution. FASTBin technology provides 24/7 inventory monitoring for a more proactive replenishment process.
Our FASTVend solutions bring visibility and control to consumables of all shapes and sizes. Utilize a simple cloud dashboard to set customized access restrictions and connect each dispensed item to an individual and cost center.
We also offer solutions to automate asset tracking and management within your facility. Drive cost savings and productivity by making job-ready tools and equipment continually accessible near the point of work.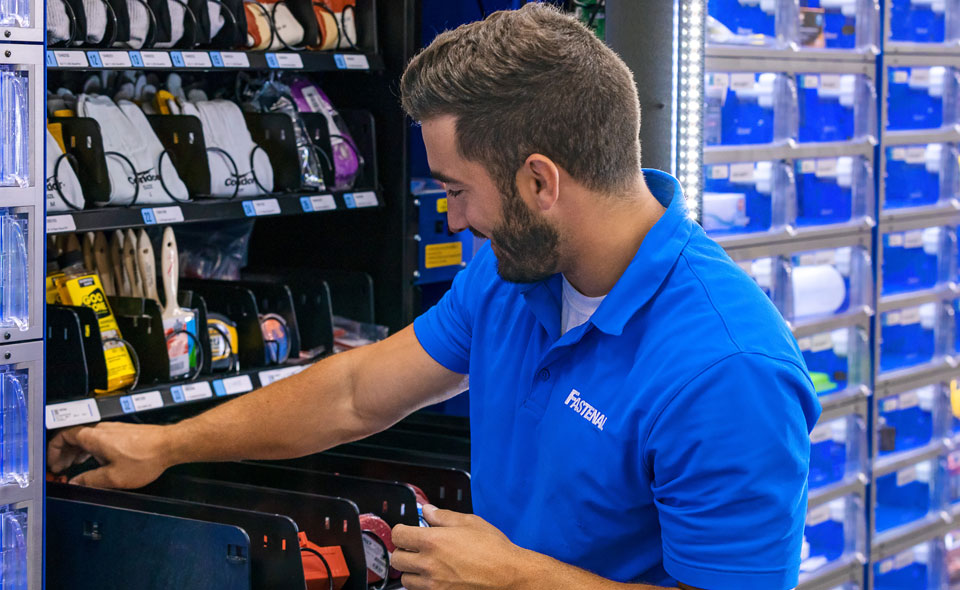 A Solution as Unique as Your Business
As a global supply chain solutions provider for thousands of companies, we understand the common challenges and best practices, but nobody knows your operation better than you. That's why our approach is to listen, collaborate, and scale a solution that aligns with your unique needs and goals.
The possibilities range from a simple dock-to-dock delivery program, to a Fastenal managed vending or bin stock solution, all the way up to an onsite partnership, where we provide a dedicated servicing location and team to run a world-class supply chain for your business.
Learn More About Our Technology
Case Studies
See how other organizations are leveraging a partnership with Fastenal and the solutions used to achieve their business goals.