Why Onsite?
Our distribution system has been built from the ground up to provide local inventory and service at virtually any global location – including YOUR facility. Through an Onsite partnership, we'll bring our experts, products and solutions within your four walls, driving cost savings and productivity gains in every corner of your business.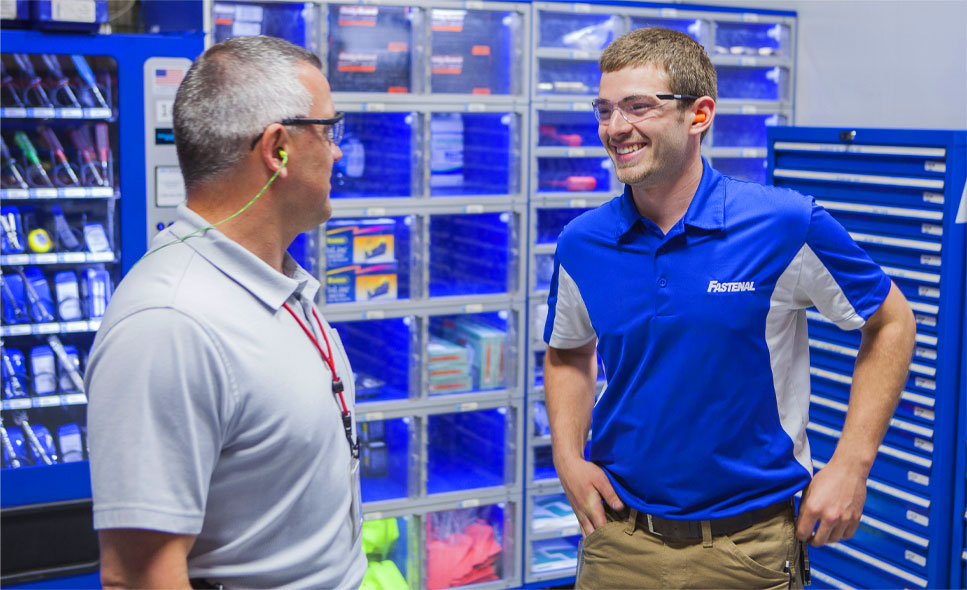 Investing in Shared Success
At Fastenal, our job is to listen, collaborate and tailor a solution that aligns with your operation, your culture and your goals. The journey begins with a benchmarking exercise to identify challenges and objectives, analyse your current process and assess the value we can provide as a supply chain partner. The takewaway is a business plan for a more efficient future state, including performance metrics that reflect your business priorities.
Each solution is unique in terms of staffing, size and scope, but all share three defining characteristics: dedicated personnel, consigned inventory and a true partnership mindset, moving beyond an adversarial buyer/seller paradigm to pursue common goals, open communication and shared success.
Challenging convention and continually seeking a better way.
Reflecting your unique needs, priorities and goals.
Instilling lasting improvements and long-term value; bringing solutions aligned with your social and environmental goals.
TAILOR A SOLUTION THAT ALIGNS
WITH YOUR OPERATIONS AND GOALS
Custom Solutions Tailored for Your Business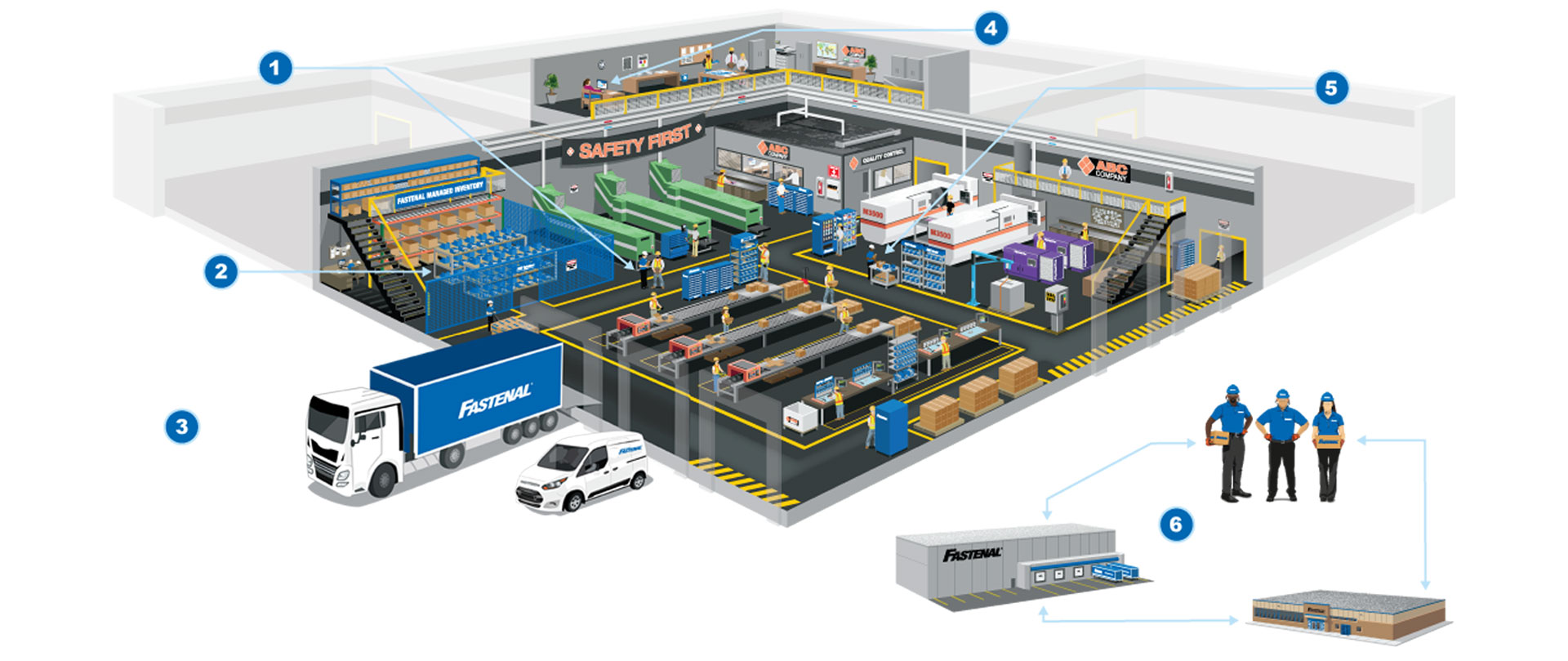 1. EXPERTS – With an onsite partnership, we provide a dedicated team to execute a supply program aligned with your strategic goals. Their job: integrate with your operation, engage with your stakeholders and run a world-class supply chain for your business.
2. INVENTORY – Fastenal-owned inventory is stocked onsite to
anticipate demand. This inventory remains on our books until it
reaches your stocking locations, and the first time your personnel
touch the product is when they're ready to use it.
3. LOGISTICS – Planned products needs are stocked in our regional
distribution center and delivered via Fastenal truck.
4. DATA & VISIBILITY – Providing a view of your current inventory (by location) as well as usage/spend activity. Gain insight into what's being used, who's using it, and at what velocity, to shape smart business decisions.
5. POINT-OF-USE REPLENISHMENT – Our Onsite team orchestrates a lean flow of inventory to production lines and various point-of-use-devices. This can include automated solutions that bring traceability and control to high-moving or critical items.
6. MULTI-LEVEL SUPPORT – The program is supported
by our district and regional sales leadership, our regional DC team, and various subject matter experts. A key resource is the local Fastenal branch, which serves as a back-up stocking/service centre as well as same-day source for 10,000+ high-demand 'spot buy' needs.
Partners in Action
At the end of the day, it is about how we make our customers do what they do even better. Watch customer stories of how we've done this time and time again and see how Onsite works for our partners.
A Great Solution Begins with a Good Conversation

If you are interested in learning more about what a partnership with Fastenal looks like, reach out! A nearby Fastenal representative will respond to discuss your supply chain priorities and explore how you can leverage our service and resources to create value in your business. Click here to contact a representative!
Learn More About Our Technology